Google Keyword Planner is the most renowned and popular Keyword research tool. It used by beginners and SEO-Experts at some or many points in their career. Nowadays, there are many other keyword planners available to use on the internet, but Google Keyword Planner is still one of the best among them.
Introduction to Google Keyword Planner
Many of you must have a wrong Idea about Google Keyword Planner that it is a tool of SEO. But to be more precise, Google Keyword Planner is no an "SEO Tool". It played a major role as a keyword Research Tool in every field where keywords are essential. The primary purpose of Google Keyword Planner is to provide the idea about advertising, manipulating, and deciding the focus of your website in a particular direction.
The only Keyword Planner in the market was Google Keyword Planner at that time. Because of that, it became easily popular and essential to use to fulfill the purpose and for doing SEO for websites. But its main purpose was never doing SEO for any of the websites.
Two types of services are provided by Google Keyword Planner. i.e. Paid advertising campaigns and free services. Both have their purpose to serve the users. When a user is using free services from Google Keyword Planner, it automatically modifies itself and only gives as little amount of data as possible. One only accurate and more useful data to gained for the users who are using paid campaigns for their websites.
But still, the data obtained from the free services of Keyword Planner is a bit useful in getting traffic on our website.
In the previous blog, we have already learned to open and start Google Keyword Planner as a free advertising Champaign in an expert-mode. Now we will learn to find accurate and useful keywords that can be used on our website.
Using Google Keyword Planner to search appropriate Keyword
When you start your Google Keyword Planner, your desktop will look something like this,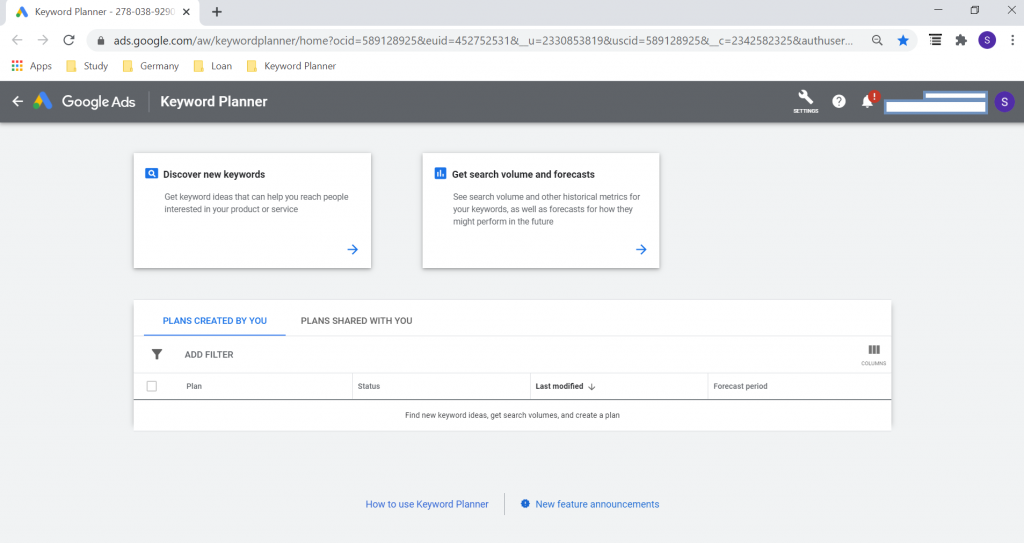 Now, Lets take a reference of a website to find keywords related to it.
In this blog, we are taking the reference of a website called "BiharApps". BiharApps is the best Website development company and Mobile App development company in Patna, Bihar. They also provide IT services including Software development and IT Staffing to their customers.
For targeting an appropriate audience and discover relevant keywords, we will take reference from the website. For a particular page or for a whole website, the audience can be targeted.
Step – 1: Click on "Discover new Keywords" on the home page of Google Keyword Planner and your desktop will look likewise,
Step – 2: There are two different methods to discover keywords.
(i) Discovering new keywords from the keywords which are on your mind. Also known as "Head-Keywords".
Method: 1
Now if you look at the reference website which is "Biharapps", they are providing services like Mobile App Development, Software Development, IT relates services, App Testing, and many more. So the head-keywords of this website can be, "Mobile App development", "Software development", "Mobile app development company", "Software development agency", "IT services", and many more.
But this will give you the results of the keywords around the whole Country. For the elementary stage, one should only target the audience for a particular place/area. For example, try to cover the region/area/city that you are planning to attract the audience. Do not keep the mindset to set the whole country or the globe to cover at once. Start from basic and expand it when you start getting the traffic according to your goal.
So, for that, we need to choose the longtail-keywords which include the name of the place in them. For example, "Mobile App Development in Patna", "Software Development in Patna", "Mobile App Development company in Patna", "Software development agency in Patna", "IT services in Patna", etc.
Google Keyword Planner will give/suggest you similar spotlight keywords. Spotlight keywords are the keywords that have a specific format and particular placing of the words used exactly by the searcher. You will get an idea of using/discovering new keywords from these suggested keywords.
There are the suggested keywords by the Keyword Planner which also includes our searched keywords in it. Keyword Planner has suggested 13 keywords along with its Average monthly searches and its competition in the market for SEO.
Type more keywords to get more suggestions by Keyword Planner on a particular Keyword.
Method: 2
For some reason, if you are not able to find a long-tail keyword and still want more keywords that are searched in a particular location, then you must change the location of Keyword Planner and type the head-Keyword in "Enter products or services closely related to your business" textbox.
The process to change the location in the Keyword planner is as follows,
Click on the Location Button which is highlighted in the Blue Box and then you will see an interface like this,
Here, you have to follow three different steps to change the location.
(i) Cancel the previous location to select a new location. Even if you won't cancel the previous location, it will work fine. But it will show the results of both the locations.
(ii) After canceling the previous location, type the location for which you want to target the audience.
(iii) After that, simply click on "Save" button to save the location.
In this case, I want "Patna" as my preferred location. After selecting your location, you will see the interface like this,
After these, you can search the "Head-Keywords" without placing any location in it. For Example, "Mobile App development", "Software development", "Mobile app development company", "Software development agency", "IT services", etc. in this case.
Further, you will get the result as follows,
Here, you can clearly see that Google Keyword Planner has suggested "1955" suggestions which are mostly used in Patna Location. According to this image, it can be concluded that these all are the phrases/keywords used for searching the company which provides services like App development, software development, It services, and others in Patna.
(ii) Discovering keywords directly using the URL of your website
Discovering keywords using the URL of the website is not much suggested for SEO by experts as it only gives an idea about keywords related to your website. They are not much relevant every time.
Using this method is only suggested to get the idea of the phrases/keywords which can be used in the website.
Steps to search keywords using website URL are as follows,
Just click on "Start with a website", as shown in the highlighted box. After that, you will see an interface like this,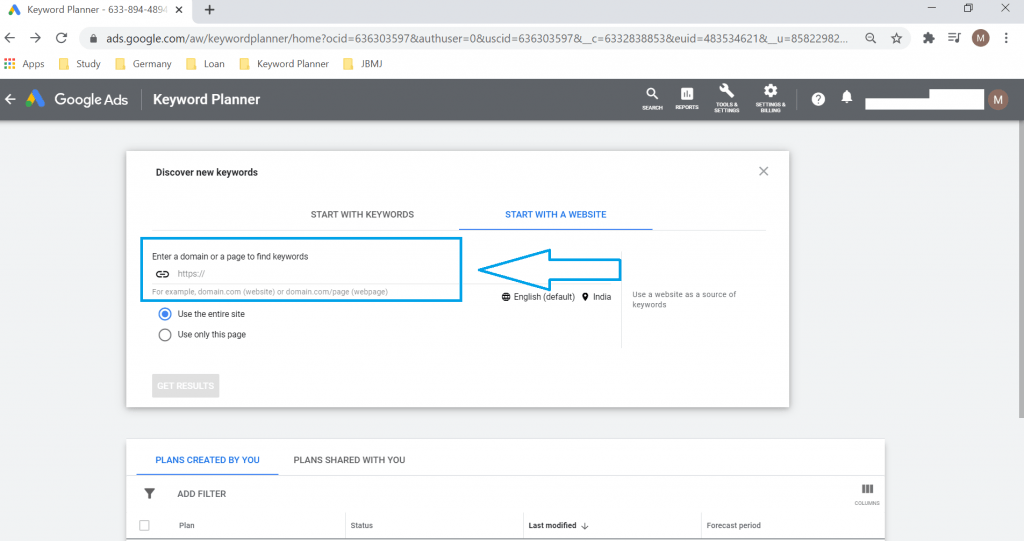 Type the URL of the website for which you want to search the keywords. Click on "GET RESULTS" and Google Keyword Planner will suggest all the keywords which are related to that website.
Find Average Monthly Searches(AMS) of a particular Keyword
When you find the keyword in the Google Keyword Planner the next column is for Average Monthly Searches which shows the approximate searches of a searched keyword in the selected location.
In the image below, you can see the column highlighted with a box.
We can say that the keyword "Mobile App Development" is searched for an average of 10k-100k in a month and the keyword "IT Services" is searched for 1k-10k averagely in a month.
The keywords which have AMS as 0-10 are rarely used or never used in the specific format you are looking for.
In the next blog, We will learn
Other methods to find keywords without using Google Keywords Planner or any other research tools
Till then, stay tuned with us and if you haven't read my previous blog on "step-by-step guide to use Google Keyword Planner", please go and read it.
Also, read my blog on "how to access keyword planner without creating an ad".
You can reach out to me for writing a guest blog posts on Apptians blog at hello@apptians.com. We are also providing 1 free backlink to your social media page or to your website.