Facebook campaigns
Facebook promotion campaigns are nothing new in online marketing in our country. With approximately 320 million (growing) users in India, Facebook has become an online promotion channel that should not be ignored. Women and men, young and old, people with low, medium or high incomes, people with the most diverse interests and hobbies, can all be targeted in a Facebook campaign!
And yes, they are all connected in a great community and interact with each other! And yes, they are all consumers… and as such a part of your potential market is among them! Our recommendation is to stop thinking and start your first Facebook promotion campaign!
Why start a Facebook promotion campaign?
Market segmentation
Segmentation is one of the basic concepts of marketing. The efficiency of a marketing channel and implicitly of a marketing campaign depends substantially on the segmentation possibilities offered. From this point of view, Facebook campaigns are extremely generous and allow us a very deep segmentation of campaigns. We can segment by geographical location (Indian cities), by sex, by age and interests/hobbies, depending on the profession, by education/studies and much more! Regardless of the profile of our business, we can practically "use" Facebook to market almost any business.
Video presentations on Facebook
Video presentations have three essential advantages: they capture attention much more easily, they allow the presentation of more information in a shorter time and they are more easily imprinted in the minds of consumers. That's why Facebook today puts a lot of emphasis on video content and encourages the posting of as much video content as possible. Properly thought out and implemented, a video campaign on Facebook can have incredible results. Many say that this is the future and it is possible to be right. We all know that an image makes as many as 1000 words and a video..well..makes at least 25 images per second.
The promotion on Facebook is visual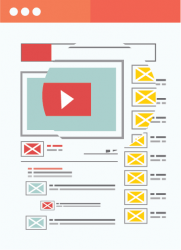 Yes, Facebook allows you to present very well the product/service you want to promote. The limitations for the number of pictures or text are very generous. Careful! Messages should not be too long, however, should be designed so that users do not get bored and read the whole message. In addition, we have to think about the fact that almost half of the users access Facebook from the phone – and here the text is harder to read. Thus, Facebook campaigns are ideal for areas such as tourism, fashion, toy stores, jewellery stores, car industry, etc.
The promotion on Facebook is accessible
Compared to Google Adwords it can be up to 10 times more advantageous. Here we refer to the cost per click that can be obtained. However, the objectives of a Facebook campaign can also refer to the number of likes, the number of post engagements, the cost per view in the case of video content, etc. However, it does not mean that Google Adwords is not indicated / effective, it has other indisputable advantages and together we can create an effective marketing mix.
Facebook "works for you"
If you managed to convince a Facebook user of the quality of your product/service, you have a good chance that he will share it with his friends and that means extraordinary visibility for you. Worldwide statistics indicate that the average number of friends on Facebook is 130 for each user. Every share that those who have interacted give you, in addition to a lot of potential buyers and an incredible trust capital.
Real-time feedback from customers
Perhaps the most important aspect of a marketing campaign is feedback… and Facebook gives you this in full. How many marketing channels does this incredible resource offer you? You can thus adjust the campaigns but also the product/service in real-time based on the fans' appreciations, so take advantage.
More than a long-term investment promotion campaign
Facebook is not just about a promotion campaign but about a relationship that you can, you have to establish with your potential customers! "The story sells" most marketing books say – it's much easier to create a story on Facebook.
Promoting on Facebook means establishing a long-term relationship with your potential customers and that is why the effects of the campaigns have extremely high inertia. Fans, friends of your business will remain loyal and will help you develop even after the campaigns are over.
If we have convinced you that it is worth starting your first Facebook promotion campaign, contact us and we will create together the most suitable strategy for your company!