Keyword Research is not just a method to find the phrases used by the User to reach the site. It is also a method to establish a connection between the mindset of the User and the Website. If we had a good command over understanding our site User and his/her mindset to reach the site, it will be easy and more convenient for us to take further decisions to use the specific keyword on your website
By listening to the word "Keyword Research", one word that strikes in every mind is "Google Keyword Planner". But let me tell you, other than Google Keyword Planner, there are several other keyword research tools that are used to search the keywords related to our sites. Here, we are going to take a look at the two simplest ways to search for some keywords related to our website, as well as a big keyword research tool named "ahref".
Some other methods for keyword research
Method: 1
The first method for keyword research is to use the analytics and smart features of Google Search Engine. Google Search Engine has a smart analytic feature that suggests to you the keyword related to your search and interest. It will only show you the keywords related to your searches in Google.
For Example, If you have a site related to website development based in Delhi. Now for the search of your site, you will type the keywords like app development company in Delhi, website development company in Delhi, android app development company, or digital marketing company near me. Google Search Engine will suggest to you the long-tail as well as short-tail keywords just by typing 2-3 words of your head keyword. Because as per the data of search engine, the searcher uses the same kind of keywords to reach the sites related to his choice.
Not Let's take a reference of a site to understand it better and accurately. For now, we are taking a reference to a site named "BiharApps". BiharApps is a leading app developer in Patna also working for other services like website development, Digital Marketing Services, Android and iOS app development as well as website & application testing and IT Consultancy.
For the accurate results of the keywords, it is suggested to set the location for which you want the keywords. If you want the keywords searched by the user sitting in Delhi and looking for websites that are Delhi-based, then you must the keywords which are used by the users of Delhi. Setting Location will help the search Engine to bifurcate the keywords on the basis of Location.
Now how this method works in Keyword Research. After setting the precise location of the area, you will go to Google Search Bar and start typing the Head Keyword of your Site. Do not type the whole keyword at a time immediately to get more ideas about the keywords.
Practical example for this method.
Step:1 – For searching keywords related to a Website development company in Patna, just type "website" and look at the searches suggested by the Search Engine. i.e, Google will show the results as follows,
Step:2 – After following the 1st step, further type "Website devel" and google will complete the rest with its smart feature and will appear with the results something like this.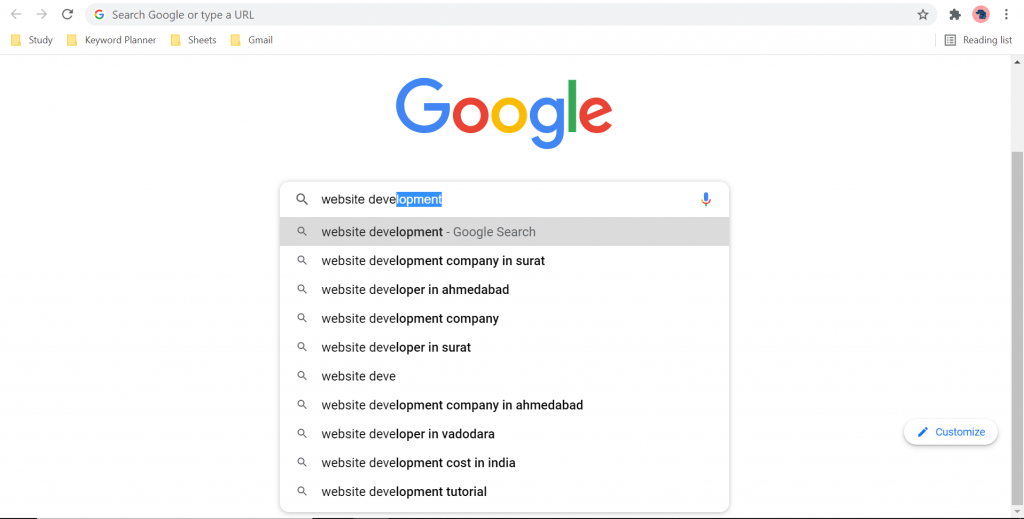 Step:3 – Now to be more precise, type "Website Development Com", and the search engine will show you the results as appeared in the image below.
Step:4 – Now its own choice to specify the location and be more accurate. Type "Website Development company in Pa" and you will get the suggestions related to all the locations starting from the alphabets from "Pa" like Patna, Panipat, Pakistan, Patiala, etc.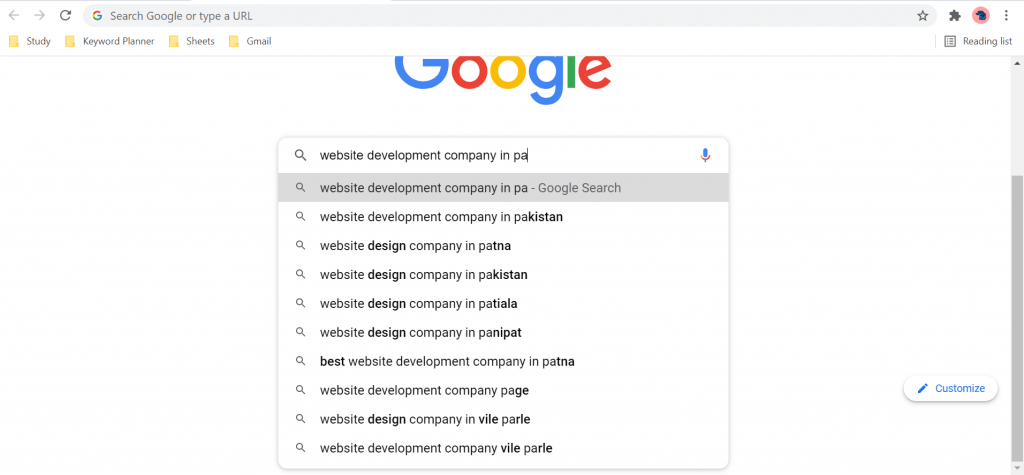 Method:2
The second method is a simple to understand and easy to use method. It is the method that suggests 8 keywords related to your Head Keyword. For example, if your Head-Keyword is "Website Development Company in Patna. The google search page will suggest 8 other keywords which are nearly related to your Head keyword like Best Website Development Company in Patna, software development company in Patna, eCommerce developers in Patna, website company in Bihar, etc.
These suggested keywords are displayed at the end of the search results. A demo of suggested keywords is spotlighted in the form of an image below.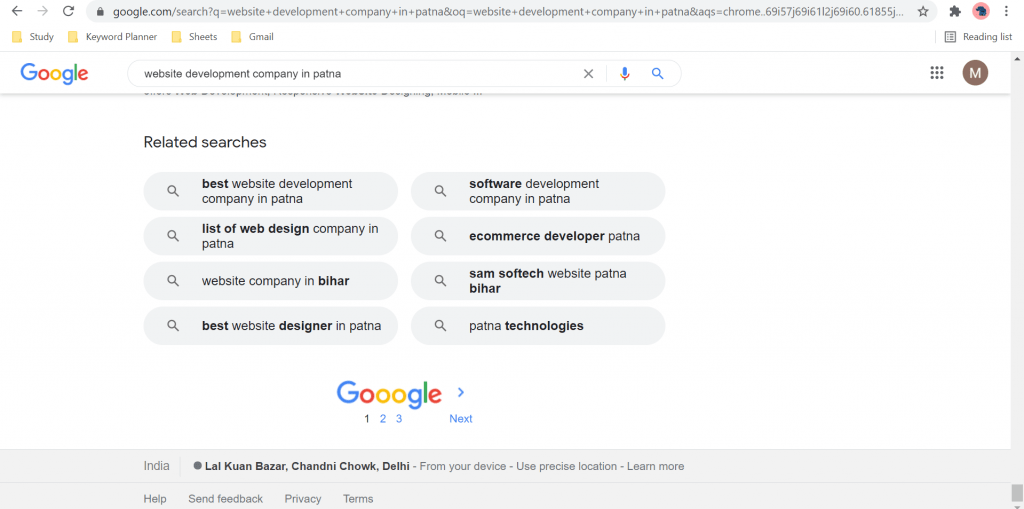 After using these two methods and Google Keyword Planner. The other important tool used for keyword research is Ahref.
Let's take a brief overview of Ahref Tool
Ahref is one of the steepest tools that is widely used in the field of keyword research as well as site audits. It is the best tool available for different purposes. It is keen and accurate about his performance. It is used to keep Audits of your site, discover common issues about your website and resolve it. It also keeps track of the health of your site as well as monitors the SEO health of your sites.
Ahref is the best tool to keep track of the competitors and their activities. Ahref has its own database, parameters for ranking the site, and analysis structure for different websites. So it necessary for every digital marketer not to rely on any one of the Digital Marketing Reporting Tool. As each of them has its own working methods and databases, according to which they display their data.
In today's era of Digital Marketing, the Ahref tool is like a boon to Marketers. The Marketers get all the facilities related to a backlink checker, broken links checker, error finder, keyword research, SEO Backlinks analysis, Lost links recovery, New successful links as well as other competitive studies related to your competitors. When you get all facilities on one platform, which would cost you thousands of rupees by taking the same services from different platforms. It would be definitely the best choice for a Digital Marketer.
Let's Look at some of the benefits of using the Ahref Tool :
Ahref provides quantitative data on the organic search report.
Provides Backlink reports including newly gained backlinks, Do-Follow and No-Follow Links, Lost links, and many more.
Provides competitive keyword research using Keyword Research Tool.
The mainstay content of every website can be studied using Content Explorer.
It provides Ahref Rank to our website. It uses obtained traffic on the website, Domain Authority, and other parameters to give ranking to the website.
Easy to study Domain Rating and Page Rating.
Gives the information of the sources from where our competitor gets the Backlink.
Gives the Idea of perfect Competitor Study.
Helps you with an accurate and effective Content Strategy.
In the next blog, We will learn
To use the free version of Ahref Tool.
Some methods to use Ahref Tools.
How to use the Ahref tool efficiently.
Till then, stay tuned with us. If you haven't read my previous blog on "How to use Google Keyword Planner in detail", please read it.
Also, read my blog on "how to access keyword planner without creating an ad".
You can reach out to me for writing guest blog posts on Apptians blog at hello@apptians.com. We are also providing 1 free backlink to your social media page or to your website.