Like emoticons, emoji represented various facial expressions, animals, places, types of weather, etc.
Their appearance took place in 1999, but their popularity began to grow in 2012 when Apple released iOS 6. The use of emojis may be possible starting with this version on Apple devices.
These are usually found in writing virtual messages on various mobile applications such as Whatsapp, Messanger, Instagram, but also on some websites (Facebook, Twitter, etc.).
There is even a specialized website: EmojiTracker that displays in real-time what emoji is used and how many times each emoji has been used on Twitter.
Some people went even further with the use of emojis, even getting tattoos on their bodies. Among them are celebrities such as basketball player Mike Scott or singer Miley Cyrus.
In 2015, AdWeek announced that 92% of all people with internet access use emojis. Since then, their use is constantly growing.
According to a report by Psychology Today , people, especially young people, now express themselves more easily with the help of emojis.
How emojis help you in your SEO strategy?
A user can search for what he wants in search engines with the help of emojis. For example, instead of "plane tickets" we can write directly "tickets ✈"
Although the use of emojis in the Google search engine has been possible on mobile phones since 2012, the search engine decided to return the use of emojis to the desktop, after deciding to remove them in 2015.
But Google is not the only search engine in which emojis are present, they can also be used in other search engines.
Even if the number of people who know that it is possible and even use emojis in searches is not too large, including them in your SEO strategy can bring positive things.
Of course, their use should not be accidental, but to choose the emojis that are related to our site. For example, for a pizzeria, we will use the emoji with a slice of pizza, for an online jewellery store we will use the emoji with a ring or diamond, etc.
Emoji crawling is also possible in Google Images. Therefore, image optimization is also something to consider.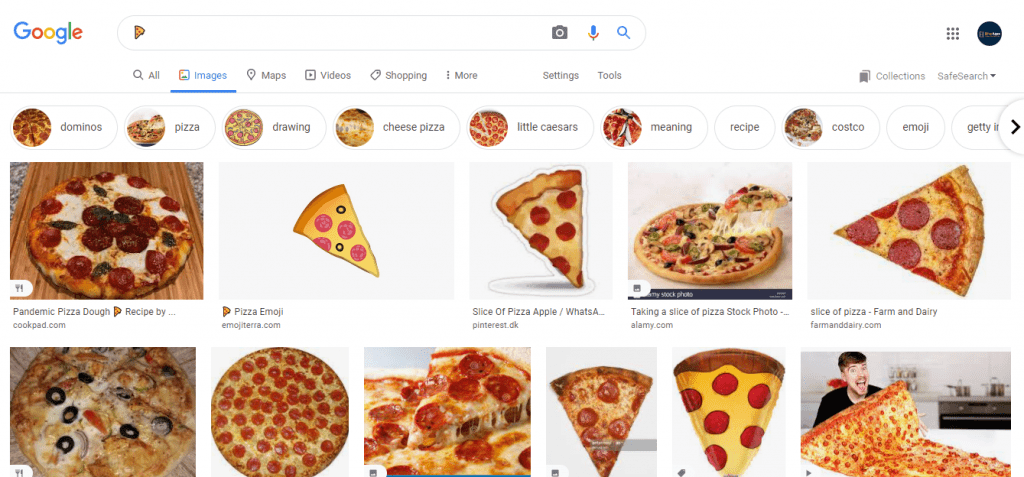 The visual impact of the presence of emojis
In addition to the benefits of targeting emojis on certain emojis, they also have a positive effect through the visual impact given.
As in the case of mobile phone applications, the presence of emojis has brought a higher number of installations, so in the case of websites, their use in meta titles and meta descriptions will attract a larger number of visitors.
Emoji directly in the URL
Although few have found out yet, you can add emojis directly to the URL (example: site.com/💓magazine-online), or if you want to register a new domain, you can have emojis directly in its name, ( example I💓.in )
Although in some browsers and in google results the domains are displayed as emojis, in reality, they contain ASCII codes.
To register an "emoji" domain you can use the service created by GoDaddy, Emoji Domain Registration. The problem is that not every extension can be used, but only the .ws and .fm ones.
Can the use of emojis lead to penalties?
Google tries as much as possible to keep search results as "clean" as possible in order to offer users a more pleasant experience.
It is known that the excessive use of special signs or the use of other methods to attract the attention of visitors in a very aggressive way is not seen with good eyes by google. For example, if we choose to use a form title: "BUY FLOWERS ONLINE", "BUY FLOWERS !!!!!!!", "Buy F * L * O * R * I", it is very possible that the site will be considered spam and search engine rankings suffer.
Does this mean that using emojis will also lead to penalties?
In principle no. If they are used carefully, the results will be positive.
A study on the impact of using emojis was created by Wordtracker. The study created 4 almost identical pages on two new domains registered with the .online extension, each with a unique text of 200 words. Each page had a clone on the other site, the only difference is that on one of the pages there is an emoji. Targeting was done on 4 non-existent words.
The study found that in 3 of the 4 cases, the page that obtained a higher rank was the one in which emoji were also used.
How to add emoji to your site
Adding emojis is very simple and can be done either directly through copy-paste or Unicode. All you need to have is access to change the title and meta description of the site and the knowledge needed to do so.
If you have a site on the WordPress platform, the change can be made quite simple with the help of the Yoast plugin.
You can find the list of all emojis on iemoji.
What you need to know about emoji:
Not all users see emojis the same way you see them, their display differs depending on the device used.
If a device does not support displaying emojis, it will see a black triangle instead.
Conclusions
Using emojis in SEO is a relatively new practice, which does not require much time and hassle for implementation but which can add to your promotion campaign when used correctly, in a non-abusive way.
We are waiting for you to tell us your opinion related to this aspect and possible previous experiences in their use.