First of all, You thinking that how Google Ads Works on YouTube? So The answer is: There are 3 key players when it comes to YouTube Monetization The Viewers, The Creators, and The advertisers. From a viewer's perspective, We want YouTube to be the best place to find and enjoy entertainment content. From a creator perspective, We want YouTube to be the optimal platform where you can produce content your audience loves and for those who choose to and qualify, a way to earn money too. and from an advertiser perspective, we want to provide a safe environment for them to reach their target audience with precision.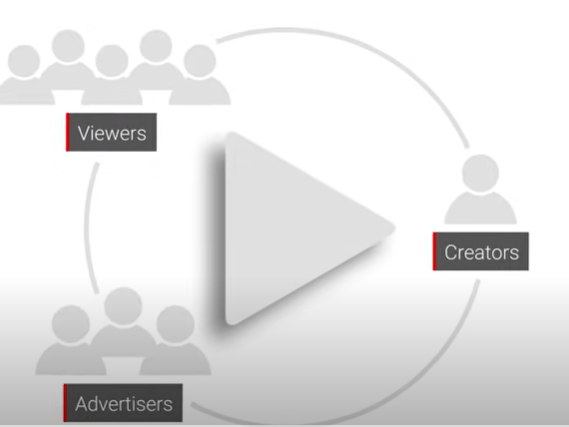 Content that's meant for more people can still make money on YouTube but you'll likely see less revenue from ads. Once you've turned ads on, they will be provided on all of your eligible videos and you'll earn revenue from this. The ads displayed on your video are automatically selected based on many factors, including audience, video metadata, and whether the content is advertiser-friendly or not.
How to make Campaign for YouTube Ads?
So now you can think that how I make Campaign for YouTube Video ads so here is the step-by-step procedure to make an effective Campaign for YouTube Videos with the help of Google Ads. If you get more information about Google ads so Read Google Adwords.
In order to create this video ad, you do have to sign up for Google Ads. If you don't have an account on Google ads then go to Google Search Engine, Type "ads.google.com" and click on "Start Now" then you don't want to create a campaign using these options so that when you click "Start Now" and you can show the option "Switch to Expert Mode"
Now Just click on " Create an account without campaign" right. Once you click on this you will see a dashboard look like this. This is your central Dashboard When you can create your YouTube Ads.
Now click on Plus sign and select New Campaign and this is where we select our objective. For a video campaign, I do suggest The one option that "Create a campaign without a goal's guidance" If you select any of these, Google scans lock you into a certain video type because there are Different options to video ads. so you go with this option and then you select a video. Now here you asking for a campaign sub-type so in this you can choose "Custom video campaign" then click on continue.
Now you can write a campaign name whatever you like or whatever the ad suits name for example here I write the campaign name is the "Digital Marketing Campaign-Apptians" the next thing is Bid strategy in this you can go with "Maximum CPV". The next option is Budget and dates For example I spent 50000 rupees on this campaign for Daily.
And the Next Part is the Networks, so you were select where you want the to Ads is shown. So you Choose "YouTube search results" and "YouTube videos". Now go down you can show Locations. In this, you can select Those locations that have the highest quality traffic. Now Languages We can select English.
The next Step is Inventory type, For this, if you can get more information to click "Compare inventory types".Now select on "Standard inventory". Next, we have Excluded types and labels. Over here you can exclude Where you don't want to contact you shown up. For Example, You don't want to show your ad on Live streaming videos or Content not yet labeled.
Ad Creation(Advanced)
Now, these all are basics things like who and where your ad is actually shown your ads too. Now, this is going to targeting content.
Here are two categories When you can target specific people. No matter What video that looks at so you can target an audience of the people. So In Demographics, the options are set as Default and In the Audience, You can target whatever you like now any disadvantage of this.
Now, We can select where we can actually put out our ads So that We can select specific YouTube Channels Where we want to show our Ads. So the first option is the keyword, Suppose I entered Online Marketing. The next option is Topics So the Topics and keywords are almost the same. Keywords are more be specific Because You can really narrow Down and typing whatever you want to.
The next option is Placement. In this, you can select a specific website, Apps, YouTube Videos, or YouTube Channels Where you can show your ads too. For example, you can Search "Apptians" Or you can type a URL on YouTube So that you can show all Videos Or you can select a specific video that you can show your ads.
The next thing here is Bidding. In this, we can add CPV bid because we selected Cost Per view. If you selected Cost Per Thousand Impressions So you will have the option for the thousand impressions. So here We can select 25. Now again you can always change this amount as well. But I always suggest that start slow If you not getting as many clicks or impressions as you like then you can right increase that amount.
The last option on the first step is to create a video so in this, you can choose any of the videos which you can create. You can type the name of the video or paste the URL also if it's available and select "Skippable in-stream ad". In URL, you can type a URL that you can show in your ads. and the same URL you can paste in Display URL.
Now check on "Call-to-action" Here very limited character link so you can write simply "Learn More". You can also add a headline which is shown your ad but only 15 characters available " So now your Ad is almost ready and you can see the preview of your Ad.
Conclusion
Running YouTube Ads can be a Quick and Easy way to give your channel good bust and views and subscribers when you do it right. but on the other hand, if you don't want to do one or if you do not create a campaign for you're channel you can easily spend much money and views but not really grow your channel. so in this blog, you can read step-by-step exactly how to set up an effective YouTube Ad give you high-quality views and subscribers.